Changes and fixes included in mobile app update 4.19.0.
New
Expanded Quote Details Screen
The Quote Details section of the Quote Results has been expanded to a new screen. This screen includes product features, carrier information, premium breakdowns, and important information about the product. Select Get Started at the bottom of the screen to Text or Email the quote, or to start a Quote Action.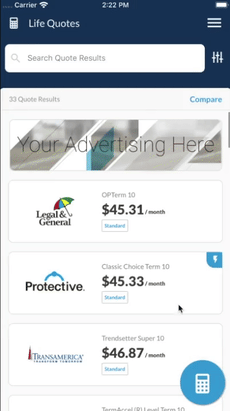 Selected Filters Displayed in Quote Results
You are now able to see what filters you have selected for your quote results. These filters will be listed in tags at the top of the quote list.
Changes
Compare Quote Checkboxes now Selectable
Users are now able to select the checkbox or the quote card when choosing products to compare. Previously only the quote card was selectable.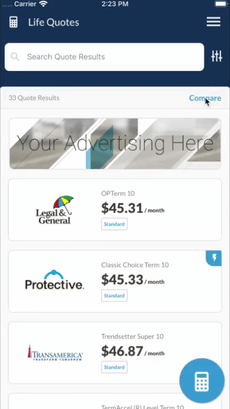 Fixes
After logging out and then logging back in, the agent selected carriers would get stuck in an unstable state. This resulted in the Carrier Selection screen inaccurately reflecting which carriers were selected. Carrier selections should now display accurately.
Single Quote Result Error
We identified a bug that would make the app crash if the results only had one quote. This has been corrected.