Just having your app in the stores is a great way for agents and consumers to find out about your agency. But what can you do to maximize this opportunity? We've compiled a few resources and tips to help you get started.
A good place to start is to review the marketing materials Apple and Google provide. These include both approved images and guidelines for each entity.
Improve your app's visibility in store search results.
App name - While the app name on devices needs to be kept relatively short, this is not the case for the name in the store. Instead of simply branding the name to your agency, try to incorporate keywords an agent would use to search for apps (i.e. instead of naming the app "ABC Agency Mobile" try "ABC Insurance Quotes" or "Life Insurance Quotes by ABC Agency"). If you would like to change your app name, email the change to support@ixntech.com and we will make the change when we submit the next app update.
App Description - Incorporating keywords into your app description can help boost your app in searches. This is especially true in Google Play as Google takes keywords directly from the description to determine what searches your app should appear in. If you would like to change your app description, email the change to support@ixntech.com and we will make the change when we submit the next app update.
App Store Keywords (Apple) - For apple, there is a section during the submission of the app to stores where you can input keywords. If you would like to add or change the keywords associated with your app, email the list of keywords to support@ixntech.com and we will edit the keywords when we submit the next app update.
Download the app - Apps with a higher download rate appear higher in the rankings as well. This is especially critical in the Google Play Store. Encourage your staff and current members of your agency to download the app.
Encourage users to rate the app. - The more and better ratings your app receives, the higher your app will show in the results of keyword searches.
Reply to reviews of your app in the stores. - The stores reward app owners who are engaged and responsive.
Create unique store content in the App Store and Google Play Store
Help you app stand out from the others by adding your own content to the stores. What content can be customized and how to add that content differs between stores. I'll walk through the differences here.
App Store
Changes must be made with an app update. We are happy to help you update your content. Send your request to support@ixntech.com and we'll add the content in the next app update.
Log in as an Admin or Account Holder at https://appstoreconnect.apple.com/ . Then select the My Apps icon and choose your app.

In the left menu, choose App Information. Here you can edit the App Name, Subtitle, and Privacy Policy. We typically enter information here for you in the fulfillment process.

In the left menu, under iOS App you will see the latest version of the app, usually accompanied by the words "Ready for Sale." Select this section. Here you are able to edit the Screenshots, Promotional Text, Description, Keywords, Support url, Marketing url. We have some of this content provided for you already. Please note that screenshots must meet certain size and resolution requirements.
Google Play Store
Changes can be made to content here at anytime. It may take a few hours for changes to display in the store.
Login to your account at https://play.google.com/apps/publish/ . The go to All Applications in the upper left menu and select your app.
In the left menu, open the Store Presence drop down and choose Store Listing.
Under Product Details you may edit the Title, Short Description, Long Description, and screenshots. You may also upload your own Feature Graphic or add a Promo Graphic or Promo Video.
Under Categorization you may adjust the category your app is listed under or add tags of keywords. We often have these things selected for you already.
Under Contact Details you may update the contact information publicly displayed. You may also add your own privacy policy if you desire.
Track your stores Analytics
App Store
Log in as an Admin or Account Holder at https://appstoreconnect.apple.com/ . Then select the App Analytics icon and choose your app. There you can view the various reports the App Store automatically generates for you.
Google Play Store
Login to your account at
https://play.google.com/apps/publish/
. The go to All Applications in the upper left menu and select your app. There are some default reports automatically displayed on the main page of your app. You can view additional information and configure your own reports from the Statistics section in the left menu.
Add Links and Badges to your existing marketing avenues.
You can easily advertise your app in the marketing you already do for your agency. Adding the "Download on the App Store" badge and the "Get in on Google Play" badge (see Apple and Google links above) is a great way to catch the eye and add credibility to your app. Adding store links to the badges will make them even more effective.
Examples of the badges:

How do I find the URL for my app in the App Store?
Log in as an Admin or Account Holder at https://appstoreconnect.apple.com/ . Then select the My Apps icon and choose your app.
Scroll down to Additional Information.
Click View on App Store.
Copy your Apple App Store URL.
How do I find the URL for my app in Google Play?
Login to your account at https://play.google.com/apps/publish/ . The go to All Applications in the upper left menu and select your app.
Click View on Google Play
Copy your Google Play URL.
Where are good places to put badges and links?
Here are some suggestions just to name a few.
Add to your website footer
Create landing page promoting the app on your website
Add to your Online newsletter
Write a Blog post
Promote on your Social Media pages
Add to your email signature
Create an Email Campaign (let agents across the industry know you have a fee app!)
Add to your YouTube videos (linked in the video and the description)
Add a pop-up to your website or a mobile banner.
We HIGHLY recommend adding download links to your website. This will make it so your app appears in search engine result pages. You can use the strength of your website to market your app.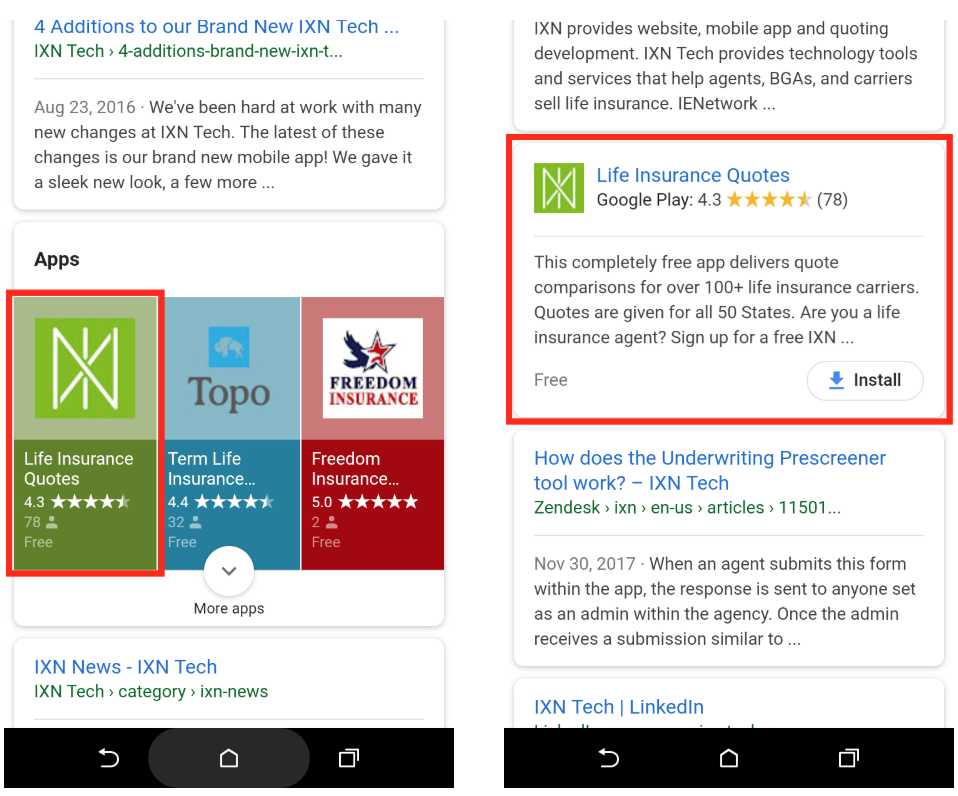 What about print materials?
We suggest using a QR code generator to add the download links to your printed marketing materials as well!
Business Cards (great for conferences!)
Newsletters
Add a QR code to a presentation
Pamphlets
Brochures
Mailers
Fliers
Provide training and training materials for your staff and agents
Help your agents feel comfortable adopting this new platform by providing them the information they need to succeed. When launching your app, start by training your staff on the platform. Team members that understand the mobile app are more likely to recommend it to the agents they interact with. You are welcome to use our Mobile App Overview video with your team and agents.
Soon after launch, plan a webinar to demonstrate the new technology to your agents. You can start with how to download the app (provide them links in the demonstration!), then proceed to show the key features. This is a great time to share use case examples. Then be sure to record this webinar so agents can refer to it in the future.
In addition to the recorded webinar, you mind find it helpful to provide other tutorial videos or instructions for the app. You are welcome to use any of our support materials, but you may want to create your own so it can have your branding. These videos can not only be added to your website or YouTube, but also to the Resources tool in the app itself.
Whenever you are meeting with an agent in person, walk through the app with them and have them to run a few quotes right then. Encourage your staff to do the same. A personal recommendation to use a new tool can go a long way.
As your marketing begins to take off, you may find new agents start downloading your app that have not previously done business with your agency. You should receive email notifications whenever a new user sign up for the app. Contact each agent that downloads your app and use this opportunity to pitch them on your agency.
Regularly update content and announcements in the app
Once a user has downloaded the app, you want them to keep returning to the app after that first use. Updating content and sending notifications are a vital way to do just that.
Push Notifications
Push notifications are a great way to promote continued engagement with existing users. See this guide for how to send notifications to your agents. How many notifications to send can vary according to need, but we recommend no more than 1 or two notifications a week. Here are some suggestions about what to include in push notifications.
Announcements about conferences, events, or contests (you could have a contest that rewards agents for using the app)
Announcements about new content or features in the app
Announcements about rate updates
Resources
The Resources tool is a great way to add content to your app on the fly. Here you can keep announcements, tutorials, and other valuable information for your agents. Have you created a new video for agents to show their clients? Add it to your resources tool so they can always have that marketing material on hand. Then send a push notification to let them know it's there!
Ads
Ads are displayed to the user whenever they run a quote in the Life Quotes tool. This is a great opportunity to continue to promote your services to your user-base. Create ad campaigns that link to your website or other services. Just a few ideas for campaigns may include event announcements, contests, promotions, or cross-selling other services.
While this is certainly not an exhaustive list of marketing methods, we hope these tips help you get the word out about your app. Before you know it, your tools will be in the hands agents and consumers. Good Luck!